The Old Creamery Café and Creative Catering are the Pride of Benton County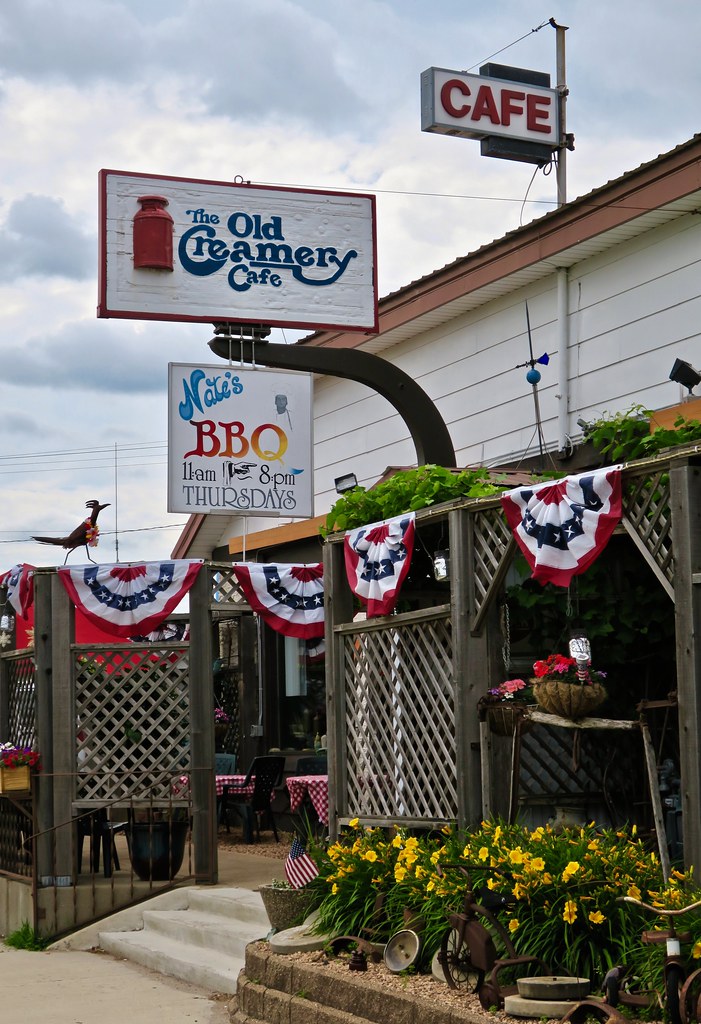 Benton County is all about dedicated people, community connections, and a palpable vibrancy; attributes clearly embodied by Mark Larson's Old Creamery Café and Creative Catering. The restaurant brims with "true Central Minnesota Americana" serving as a place for the community to come for first dates, breakfast with the grandkids, or lunch after church. Creative Catering serves up the delicious food for the occasions the community celebrates: graduations, weddings, and lives well-lived.
But to understand how these businesses achieved their place of pride in Benton County, it is interesting to trace Larson's penchant for grabbing opportunities and seeking education and experience. He first became enamored with the hospitality industry when he took the newly offered co-ed food service class at Bemidji High School in 1969. With this knowledge he transitioned into feeding the masses when he served as a cook in the Army in West Germany from 1972 until 1976. He honed and diversified his skill set in chef school from 1976 until 1978, landing a culinary job at the St. Cloud Best Western after his graduation. For years, he worked for off-site caterers until in 1986 he purchased the Creamery Center in Rice that featured a car wash, laundromat, and short order café. (The Creamery Center has its own rich history, its roots and associations dating back to the original Rice Creamery established in 1914.)
Since 1989, the establishment has been known as The Old Creamery Café and Creative Catering, and Larson has been evolving and growing his business ever since. He eventually closed the car wash in the late 90s, and in 2008 closed the laundromat to make room for more seating. About five years ago, he added a foyer and doubled his seating again; and one year ago he was granted his license for beer and wine.
While much of Larson's success can be attributed to his business acumen, he is quick to praise his customers and his workforce. He appreciates all of the industries and businesses in Benton County that are Creative Catering's corporate customers, as well as the local folks who are regulars at The Old Creamery Café.
"It's all about the people, whether it be your staff or the public," says Larson. "People think I'm selling food, but I am really selling service."
Included in Larson's twenty-two employees is his son, Nate, who has actively worked in the businesses for twenty-five years and is currently managing the restaurant, and his daughter, Cindy, who has worked on and off in the business for much of her life.
Larson is also keen to acknowledge the local business support he has in terms of banking, accounting, and legal services saying "these kinds of good relationships lead to good business."
As with any brick and mortar business, Larson appreciates the importance of location. When the Highway 10 overpass opened in Rice in 2014 with its easy on and off access, The Old Creamery Café became an accessible stop for motorists traveling to vacation spots, medical center appointments, and family gatherings. But it is more than just convenient, as Larson says, it is a "fun, unique destination that people seek out because of its nostalgic history as a creamery."
That highway accessibility works doubly well for Creative Catering allowing Larson to easily service a large area. Larson considers Rice an excellent home base, calling it "the center of Central Minnesota."
To talk to Larson is to appreciate his flexibility, adaptability, and commitment to continued education and training. These qualities are abundantly reflected in his businesses. While he keeps up with the times with adjustments like diversifying his food choices to serve a modern palate or decreasing the deadline for the final head count for an event to just three days prior, he still prefers to get out and do business in person, to get to know people and what they need.
"You have to be committed to whatever you are doing; it's the people who matter," says Larson.
Follow The Old Creamery Café on Facebook, and check out Creative Caterings' menus. Explore the benefits of membership in the Benton County Partnership here.